Turning Back the Clock on Mackinac Island
If you are looking for a break from the noise, pollution, and constant motion of everyday life, Mackinac Island is the perfect getaway. Here, you can relax, enjoy beautiful scenery and views of the Great Lakes, and indulge on world-famous fudge.
Matte drying clear nail polish that can be worn over any color to dull it's shine and create a completely matte look.
It is located in the Straits of Mackinac, between the Upper and Lower Peninsulas of Michigan, which are connected by the impressive Mackinac Bridge, the third-longest suspension bridge in the United States.
Changes colors in different temperatures!
In the cold state, it is an almost black nail polish. In the warm state, the polish lightens up to almost clear and you can see the gold and silver twinkling glitters much clearer!
A few years ago, we decided to take the family to Mackinac Island for a vacation and we were glad we did! There was something for everyone, from exploring the island on horseback to learning about its history. Mostly we enjoyed reconnecting with nature. There are no cars allowed on Mackinac Island, so you get around by horse, carriage, bicycle, and on foot.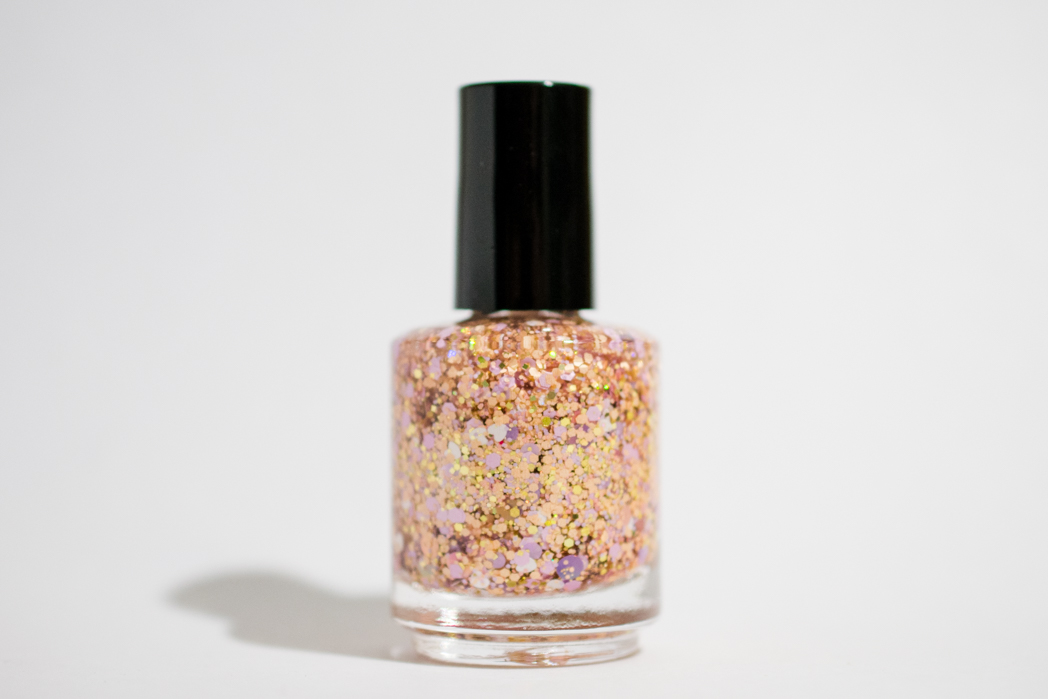 Cute white heart glitters, peach, pink, violet and gold glitters in a clear nail polish base.
After a scenic drive to Mackinaw City, we left our car and cares behind and embarked on the short ferry ride to the island, where we found ourselves transported to another place and time. At the port, a concierge greeted us and collected our luggage and we immediately felt relaxed and welcome.
Light mint green creme nail polish. Inspired by the painted ceiling above the 660 foot long porch in front of the Grand Hotel on Mackinac Island.
We stayed in a charming little inn. There are no chain hotels on Mackinac Island, but plenty of lodging options ranging from bed & breakfasts to condos. And of course, there is the historic and unique Grand Hotel. Built in 1887 in only ninety-three days, the Grand Hotel boasts the world's largest front porch at 660 feet. It still retains its original charm and character; no two rooms are the same and the décor is fun and eclectic.
Medium mauve pink creme nail polish with a slight frosted shimmer.
We rented bikes and they served us well in getting around the 3.8 square mile island. We used them in town and spent an afternoon biking the eight-mile loop along the coast, known as M-185.
According to the Michigan Department of Transportation, M-185 is "the only state highway in the nation where motor vehicles are banned". Downtown, the highway is called Main Street, and Lake Shore Road elsewhere. M-185 passes by several important sites within Mackinac Island State Park, including Fort Mackinac, Arch Rock, British Landing, and Devil's Kitchen.
Medium blue creme nail polish.
On one side there are stunning views of Lake Huron, while on the other the island's many parks and natural beauty can be seen. Along the way, we stopped at the British landing, where the British captured Fort Mackinac and Mackinac Island from American troops during the War of 1812, and Arch Rock, an awesome natural rock bridge formation that offers fantastic views.
Shimmering peach sheer nail polish.
Among Mackinac Island's vast State park is a limestone formation known as Arch Rock. To this day Arch Rock stands on the Lake Huron shoreline 146 feet above the water.
Shimmering pink semi-sheer nail polish.
A unique aspect of the island is its horse culture. We learned that on Mackinac Island, horses always have the right of way. Horse-drawn carriages and taxis are used to get around. For our kids, going horseback riding on a trail through the woods was definitely a highlight of the trip.
Nude pink sheer nail polish.
For me, learning about the island's colorful history was the highlight. We toured Fort Mackinac, where we witnessed a historical reenactment. On a rainy day, we checked out the Stuart House City Museum, which tells the island's history through the use of old photographs and models. Built in 1817 as the Agent's House of the American Fur Company, the house itself is a historical monument.
Holographic chocolate brown nail polish.
While we enjoyed checking out the many quaint restaurants and shops, most memorable were the fudge shops. Mackinac Island is famous for its fudge and it comes in countless flavors and varieties. At Murdick's, the original fudge shop that opened in 1887, you can watch the process of fudge being made. We ending up bringing home way too much fudge, but it was nice to bring back a piece of the experience and to share it with our friends.
Shimmering lilac purple nail polish
It is no surprise that tourists return to Mackinac Island year after year. It offers such a different experience from other destinations. For our family, it was an opportunity to slow down, enjoy spending time together, and to create many lasting memories.
The nail polishes by Northern Nail Polish, inspired by the island and surrounding areas are a great way to keep those magical and sweet memories from fading away. Check out the entire collection here, or find the individual colors on the shop page.
About the article author: Alison Rose is a historian specializing in Austrian Jewish history and a freelance writer. She is the author of two books and enjoys traveling and spending time with her family. She lives in Columbus, Ohio.
Do you have a passion for the places, people and things that make Michigan so beautiful and unique? Does a certain thing about Michigan hold a place in your heart, and you'd like to see a color inspired by it? We are looking for your ideas and favorite things about our wonderful Great Lakes State! Reach out to us here at NorthernNailPolish@gmail.com! We may even feature your ideas and stories about what Michigan means to YOU!